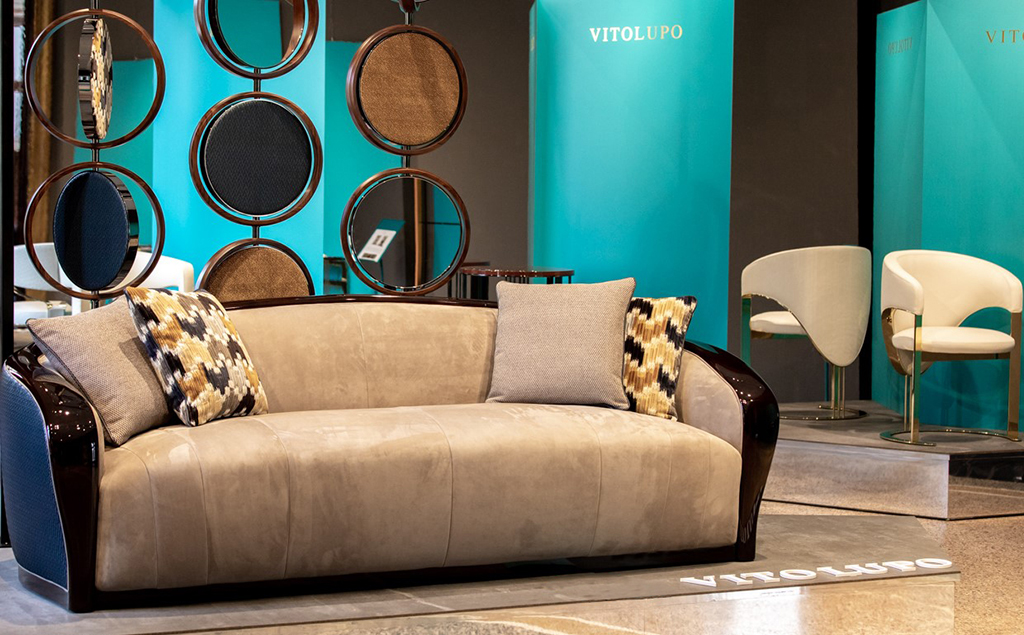 The design of luxury Sotheby's Milan, February 20-21, 2020
VITOLUPO inaugurates a new definition of the home, a fascinating journey into everyday life to rediscover craftsmanship and rare materials
Milan, 20 February 2020 – On the occasion of the exhibition "Il Design del Lusso" hosted on 20 and 21 February 2020 in the halls of Sotheby's Milan, VITOLUPO tells the 'time' of the home through its first collection of furniture. The new definition of home starts in the morning: "it is concentrated in the bedroom, in the most intimate place in the house. From this private place, which is difficult to access if you are not the 'owner', intimacy is distributed to the entire habitat, making even the open and sharing places, such as the living room and dining room, precious return to the cultured intimacy of the study. "
Tables, Sofas, Beds, Screens, Bar Cabinets, Bookcases, Armchairs, Consoles, Sideboards, Wall Mirrors, Coffee Tables, Vanity Tables, Desks. Each VITOLUPO artefact is the heir of the noblest Italian culture. Each piece is born from a sophisticated and unique research process that combines advanced craftsmanship and high quality materials with advanced production technologies, "To fully enter the heritage of art, in that dimension that sees its value grow and strengthen over time".
Il Platano, Il Castagno, Il Melograno, Il Mirto, Il Carpino, Gli Oleandri, I Rododendri, Il Prugnolo, L'Agrifoglio, L'Alloro, La Quercia, Il Gelso, Il Sambuco, Il Ciliegio, Le Ginestre, Il Leccio.
"We went to look in the dimension of Nature and we found trees: so each piece of furniture took on the name of a tree, a flowering bush, a fragrant hedge. … Each plant has transferred from the external landscape to the internal one of the house the solidity of the materials used, the naturalness through the polychromy of the surfaces, the stability and the roots as substance and quality of our relations with the place, and again and always the Beauty that he lives in time growing up, always doing good with his presence. "
The concept that contributes to the definition of the furnishings responds to a need for harmony and beauty in the choice and combination of materials, in the refinement of the finishes and in the sophisticated nuances of color, proposals with often surprising accents even in the interior of the furnishings.
"The presence of color is a natural choice, a consequence of the relationship with the knowledge and study of earth materials, selected and collected in the large Archive of Experiences; cataloged and recorded, the variables of reds as well as browns of leathers and fabrics, between whites and blacks of stones, suggest and detail the definition of each volume ".
The long path of research and experimentation that led to the first edition of VITOLUPO furniture, developed in connection with the heritage of culture and art history, is collected and systematized in the volume "Dal Giorno alla Notte" published by Skira, edited by by Andrea B. Del Guercio.
Writings taken from the volume "From Day to Night" edited by Andrea B. Del Guercio, published by Skira.